Affordable Wireless MEMS triaxial Vibration Meter, a versatile monitoring system for vibrations. The meter works on the basis of the latest MEMS sensor and has an extremely low self-noise level of 20 um/s peak at 1 Hz, so that the strict requirements of the DIN-4150, DIN-45669-1 and SBR-A are met. The filters of the SBR-A and DIN-45669 are implemented in the meter. The system comes with free softwares and it has built-in WIFI and USB completely encased in epoxy (IP57 Rating).
The instrument can measure acceleration, speed and inclination. The meter can be used while it is connected to a PC or wireless via WiFi connection. The system comes with a Wi-Fi connection, Li-ion battery, a precise clock, e-mail alarms and can continuously monitor or start measuring after a set trigger (relative to a certain velocity or acceleration value).
A Cloud solution is available and recommended so that you can consult and monitor your measurement data online via the internet. New upcoming feature: soon it will be possible to fully control the instrument wirelessly via your Cloud account! We are currently in the beta testing-phase of this new feature.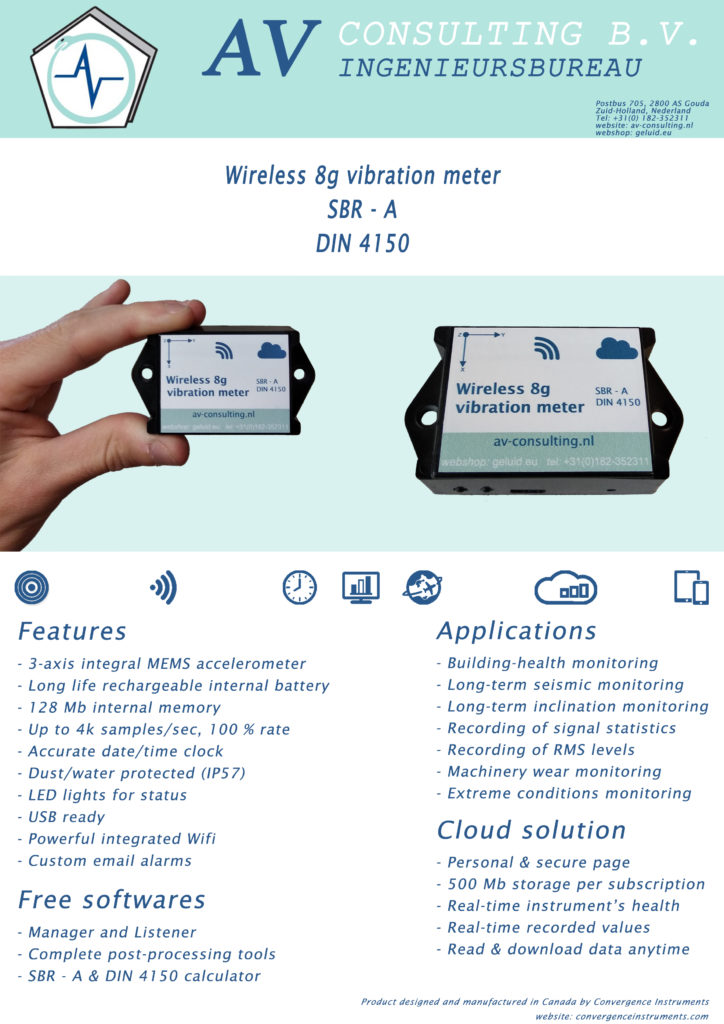 Already customers of the product, among the others: the Dutch Ministry of Defense, Stichting Geluidshinder, NIMOS, NUON Velsen, Ontwikkelen In de Stad, Cambrian Engineering Corporation.
Our company is the dealer for these instruments for the Netherlands, Belgium, Germany and Italy.
To order the instrument or to rent it, visit our webshop geluid.eu.