One of the most important qualities of the Wireless MEMS Vibration Meter is its versatility. Features below make the meter useful in various applications:
small and lightweight;
it can work stand-alone for weeks thanks to the built-in battery;
it has very low self-noise;
dust and waterproof;
it only takes a quick look at the two LED lights to understand what the status of the meter is;
it can measure signal statistics and with the softwares it is possible to post-process all kinds of data;
real-time monitoring for the project manager or users, on the cloud or on a server;
a large number of instruments can be synchronized to get comprehensive vibration monitoring;
the free post-processing and calculation softwares enable to achieve various tasks.
Vibration measurements following SBR – A guideline
Damage and nuisance can occur during construction and demolition works, due to vibrations. This can be caused by driving heavy traffic past homes or offices. It might happen also that due to the construction of, for example, a speed bump on your ajacent road, you will experience damage to your building.
The measurements can be manned and unmanned depending on what is necessary. Our company has advanced equipment to measure and map vibration levels due to these construction or demolition activities. To measure the vibration levels, vibration measurements are made using, for example, the AuroVibe; or similar certified vibration measurement equipment. The measurements are performed according to the so-called SBR guideline. In the Netherlands, there are three guidelines to know; SBR guideline-A (Damage to buildings), SBR-richtlijn-B (Nuisance due to vibrations in buildings) and SBR-directive-C (Damage to equipment). The majority of tests are based on guidelines A and B. Testing against guideline C is also becoming increasingly common.

This data logger easily meets the requirements of SBR-A. It can be placed by anyone on the advice of one of our experts. For damage to buildings the results of the measurements can be compared with the SBR-A values with our software.
Spectral displays of the values.


Scatter-plot.
Vibration measurement following SBR – B guideline
Measurement of nuisance due to vibrations in a backyard.

Measurement of nuisance due to vibrations inside an office.
Vibration may occur (building damage) as a result of construction and demolition work.
If it concerns building damage (cosmetic, serious, constructive) that residents attribute to vibration nuisance, then take into account the possibility of subsidence due to changes in water levels and new (uneven) settlements or even up and down pressure due to nearby new building masses. In most cases this will be settled between the insurances of homeowner and builder. For large projects, a compensation claim organization may be provided. In all cases it damages the relationship between builders and local residents. This obscures communication about everything that has to do with building, including construction noise and building vibrations.
The SBR Directive B specifically addresses nuisance caused by construction work.
This data logger meets the requirements of SBR-B. It can be placed by anyone after the advice of one of our experts.
Vibrations risk assessment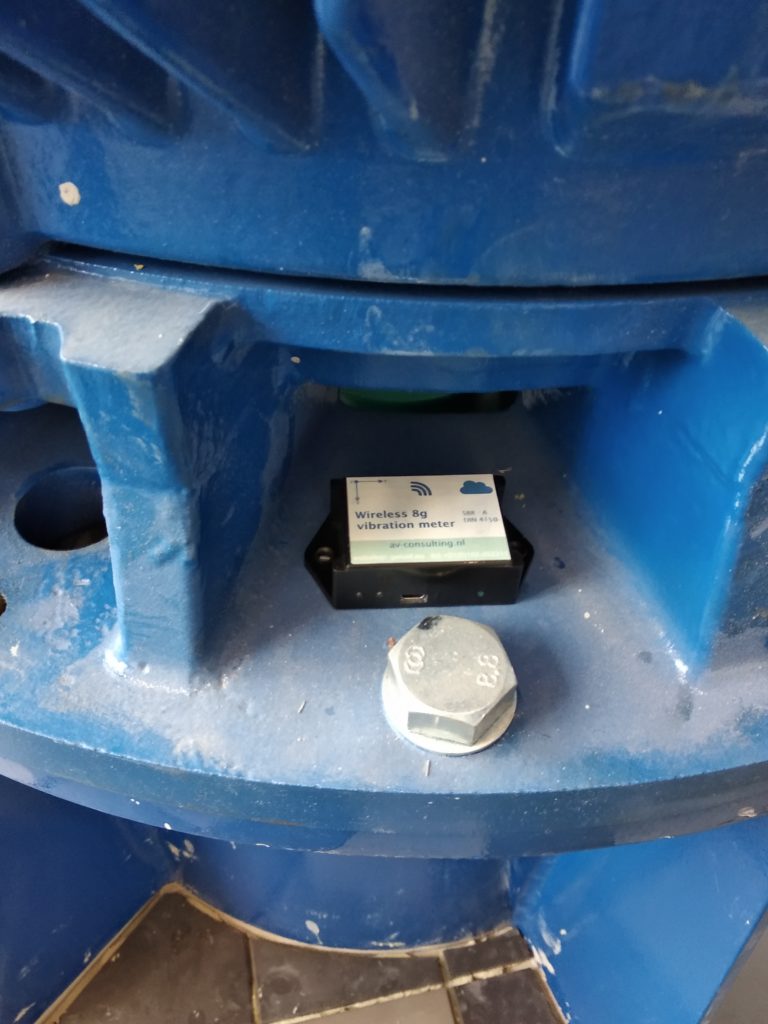 From 1 July 2005, Dutch companies working with vibration-causing equipment must determine the vibration intensity of each vibration source and how it should be used. A maximum safe working time per day has been set for certain vibrations. A balance is sought between form and standard to prevent claims due to work-related illnesses. Many drivers of forklifts, telehandlers, HLOPs and MPTs are exposed to hand-arm vibrations and body vibrations in their work. On the basis of the technical information of the various machines, it can be determined in advance whether it is necessary to initiate a vibration investigation into the vibration levels occurring in situ at the workplaces.
Wireless MEMS vibration meter also appears to be a good solution in this situation thanks to its precision and its small dimensions.
To purchase or rent the instrument, visit our webshop geluid.eu

Vibrations measurement in complex situations
Our vibration meter is suitable for working wirelessly in the most complex situations where other instruments are too large and too heavy for the task.
Measurement of the vibrations of an underground water pipe.


Vibration measurement on the foundation of a building, where the available surface was extremely small.